This double cheese cheeseburger, made with Safeway's O Organics® ground beef and cheese is the definition of summertime grilling favorites! (Jump directly to the recipe.)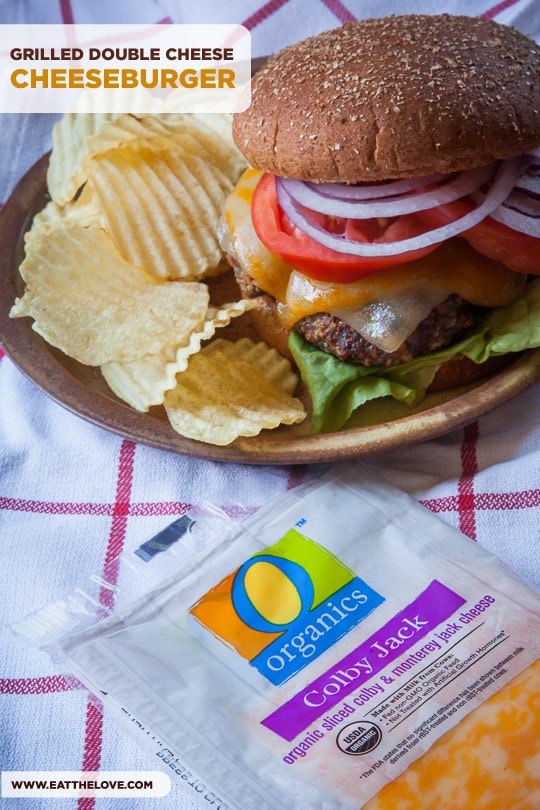 This post was sponsored by Safeway. I was compensated for this post and for developing the recipe. However all opinions below are completely my own.
If you have followed AJ and me on social media for the past few weeks, you'll know that we went on a road trip and camped a lot. Though I try to take this sort of time to get offline and "off-the-grid" it's hard for me to completely separate myself from social media. Photos of the gorgeous nature that I experience are hard not to share with everyone. And, of course, when we're out and about, away from home camping, we're grilling food, like these double cheese cheeseburgers made with Safeway's O Organics® Ground Beef! Now, if it were up to me, my preferred choice of making food would be grilling. There's something summertime magical about cooking over an open flame outside. So, when Safeway reached out to me about making something with their O Organics® Ground Beef, I knew immediately what I wanted to make.
This is one of my go-to recipes for burgers because it's easy to prepare and packed full of flavor. With garlic and onion powder seasonings and the addition of shredded cheese in the burger itself as well as two slices of different cheeses on top, this double cheese cheeseburger is the definition of sSummertime grilling favorites! AJ and I are pretty selective about our meat intake. I don't eat a huge amount of meat but when I do, I try to eat grass fed organic, which is why I love Safeway's O Organics meats, especially their ground beef.
Because Safeway wants awesome tasting organic food to be available to everyone, they created their O Organics® line, at a price that is totally within everyone's reach. The O Organics® line of meat (including USDA certified organic chicken and beef) is exclusive to Safeway and other Albertsons stores and features is a great quality products that anyone can use as an ingredient for their families' everyday weeknight meals. [click to continue…]
{ 3 comments }